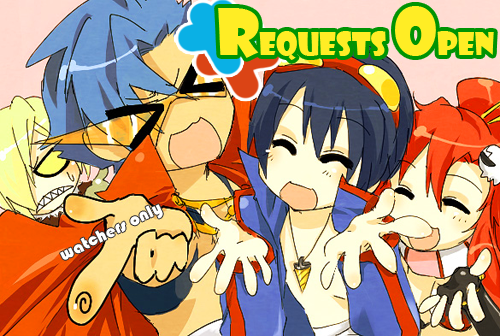 I know your brain just asploded.
I haven't really made that many posts, but to give back to people who've been watching my dinky little community since whenever~ thanks guys! x3


♡ RULES ♡


[1] What you see is what you get. Your icons will more or less look like the stuff I always make. x3;;
[2] I don't really do fancy super-textured/brushed stuff. My style is just simple & clean. When youuuu walk away~♬
[3] Which also means I can't animate! XD
[4] Reserves are okay!
[5] Watchers only! ♥
♡ WHAT YOU GOTTA DO ♡


[1] Watch the community.
[2] Find an image, as clean as possible. (HQ manga scans are loved!).
[3] Give instructions (ie - no text, bright colors, make Hibari's hair pink, etc.) or none at all.
[4] Kick treat around to remind her to finish. :D


I don't have a limit in mind, but I will cap after a certain number. We'll see.
CLOSED.
Everyone who commented before October 19th, you now have a two weeks' notice.
Current Mood:
optimistic